Identify the substance in seconds with the Cora 100 handheld Raman spectrometer from Anton Paar
The fast and compact Cora 100 handheld Raman spectrometer perfectly suited for on-the-spot identification of explosives, narcotics, hazardous materials, and incoming goods. It has easy single-handed operation and provides the quick and reliable results users need in stressful situations or hot-zone environments to minimize the time between discovery of unknown substances and decision-making. The Raman analyzer has a small footprint and a robust construction – ideal for operation in the field or in the warehouse.
Cora 100 is made for identifying the substances involved in the intoxication of humans, identifying hazardous spillages on the highway, detecting explosives within suspicious objects, and for verification measurements on incoming goods.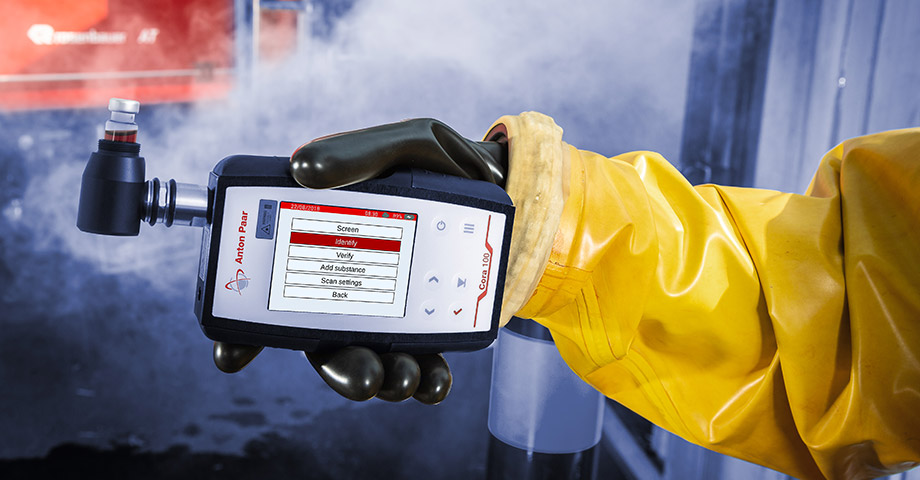 Straightforward handling
Anton Paar's new Cora 100 handheld Raman spectrometer is the simple and straightforward solution for identifying substances. The intuitive software and accessories can be used by anyone – no formal training in Raman spectroscopy is needed. Without complicated steps, quick and reliable results are shown in seconds. The spectrometer takes a chemical fingerprint of the substance, compares it with thousands of entries stored in special libraries, and gets a matching result in seconds so that the user can assess the risks on-site and make the right decisions without losing valuable time.
Compact and robust design
The very small footprint (16 cm x 10 cm x 3 cm), small weight (700 grams), and rugged construction make Cora 100 ideal for single-handed operation and on-site identification of substances – even under the toughest environmental conditions. The Raman analyzer has successfully been tested according to military specifications, MIL-STD 810G, as well as European tests for dust and water, and is defined as IP67 waterproof.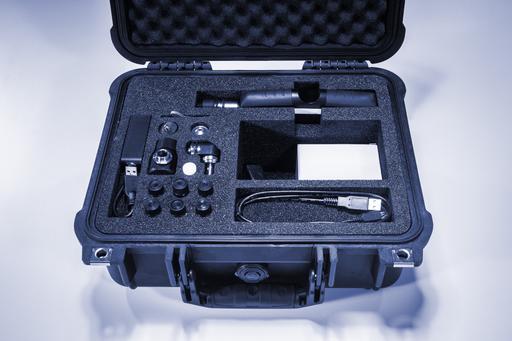 Special libraries suitable for authorities
Spectral libraries for narcotics, hazardous materials, explosives, and chemical warfare agents are available – suitable for authorities like customs, first responders, police and fire departments, security forces in prisons and airports. Customized libraries can also be created by the user within minutes. The collected data is saved and stored in the spectrometer for further report generation.
The right accessories for every situation
With a versatile set of unique sampling attachments, the identification of unknown substances is possible in any situation. The point-and-shoot adapter is suited for measurements through bottles or plastic bags for identifying liquids and powders. Quick non-contact analysis without moving samples, for example potential explosives, can be performed with the right-angle sampling adapter.