QUINTETO+
Counter-CBRN terrorism
cross-border exercise
By: Dr. Marian Kolencik, PhD.
President of the Management Board,  International Security and Emergency Management Institute
Introduction
In terms of scale, a CBRN incident may be local but also vast and trans-border and, as such, it may require a fast international reaction. The need of the knowledge related to CBRN threats is evident and strategic to develop adequate countering strategies. Therefore, the Consortium where International Security and Emergency Management Institute was leading partner of the project "Gap analysis on detection of CBRN threats and organization of cross-border exercise" has been assigned by the European Commission within the framework contract to provide a good overview of the scenarios of possible CBRN terrorist attacks and to provide a gap analysis in relation to detection capabilities. The full extent and context of the CBRN threat and the modus operandi of terrorist using a CBRN agent cannot be predicted due to a number of external factors, like the flow of goods, migration, economic and social situation, meteorological conditions, technological development, previous unknown skills of terrorists etc. Despite this fact, the consortium has used all its professional sources and experience to develop 74 potential CBRN realistic worst-case terrorist scenarios. They explore different degrees of realism on how offenders might obtain or produce a CBRN agent and how they might conduct the planned attack by spreading selected agent to the target. In modeling CBRN terrorist scenarios and impact factors, we encountered a higher level of uncertainty. In addition to the undefined factors essential in threats of a natural or technological disaster, terrorist CBRN threats entail new factors of uncertainty emerging from the complexity of evaluating terrorist group approach and values, behavioral logic, type of CBRN agent used, way of their spreading as well as their organizational potential and other resources at their disposal.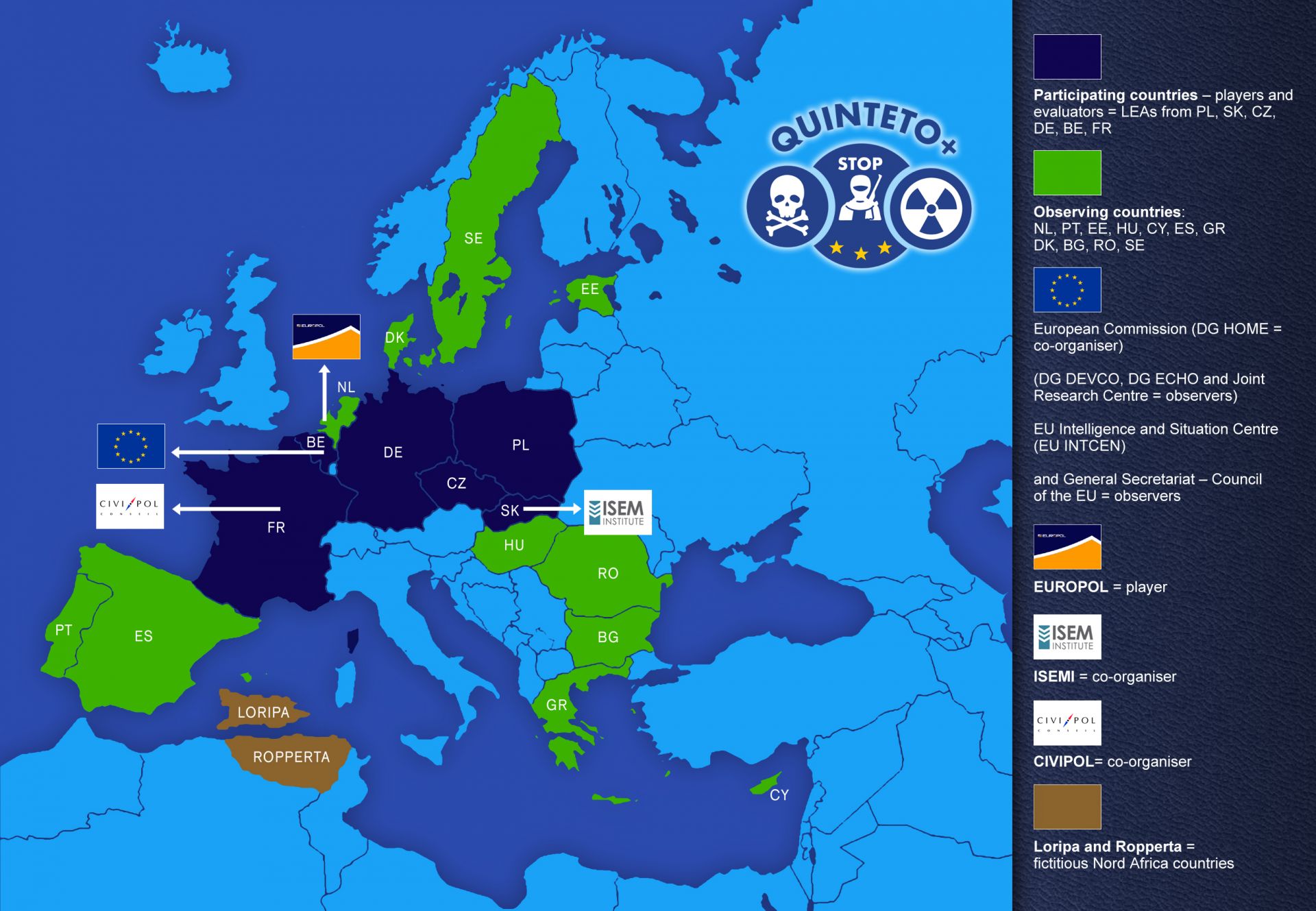 Another important aspect which was considered during the phase of scenarios development was the capability of terrorists to choose attack modus operandi. This can be connected to the selection of places, time, type of agent, tools and types of action, taking into account system vulnerability parameters and the damages potentially caused by an attack.
As further step in the project and based on one selected scenario, consortium carried out the pilot multi-cross-border counter-CBRN Terrorism exercise which involved several law enforcement agencies from 6 countries and Europol.  It was a combination of field and table top exercise with the aim to test the international and cross-border intelligence exchange and police agencies reaction to highly likely chemical and radiological terrorist threats.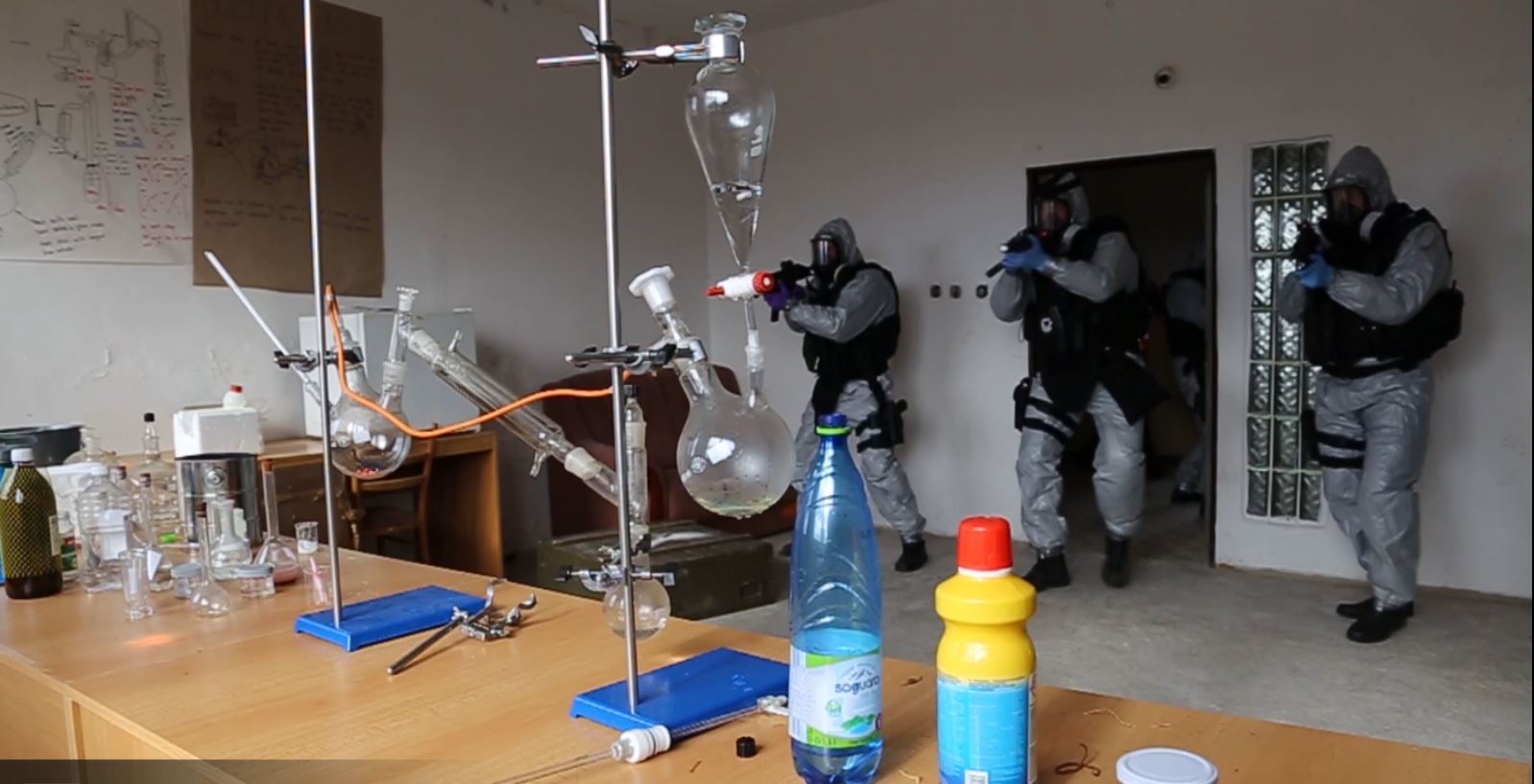 Analysis
The Consortium was led by the idea of having a realistic exercise storyline, i.e. a plot that has a higher probability of taking place in terms of means, manner and target. Detection challenges and recent developments were also taken into consideration when selecting the scenarios. A combination of chemical and radiological threats was selected for inclusion in the Quinteto+ exercise.
The exercise itself covered six EU Member States (France, Germany, Belgium, Poland, Czech Republic, and Slovakia) selected by the European Commission. Those countries are highly affected by recent terrorist threats and attacks or by highly organized criminal groups smuggling or illegally handling and producing CBRN material.  Within this exercise multiple police tactics and interventions were tested and trained (intelligence gathering and analysis, intelligence exchange, following perpetrators, car search and tracking, detecting CR agents, intervening, terrorist arresting, zoning and securing places, CBRNE threat recognition, sampling, Crime Scene Investigation under CBRN conditions, decontaminating in cooperation with civil protection and firefighters' agencies, saving victims in cooperation with ambulances, etc.). Other 11 countries were involved as observers (Bulgaria, Cyprus, Denmark, Estonia, Greece, Hungary, Netherland, Portugal, Romania, Spain, Sweden).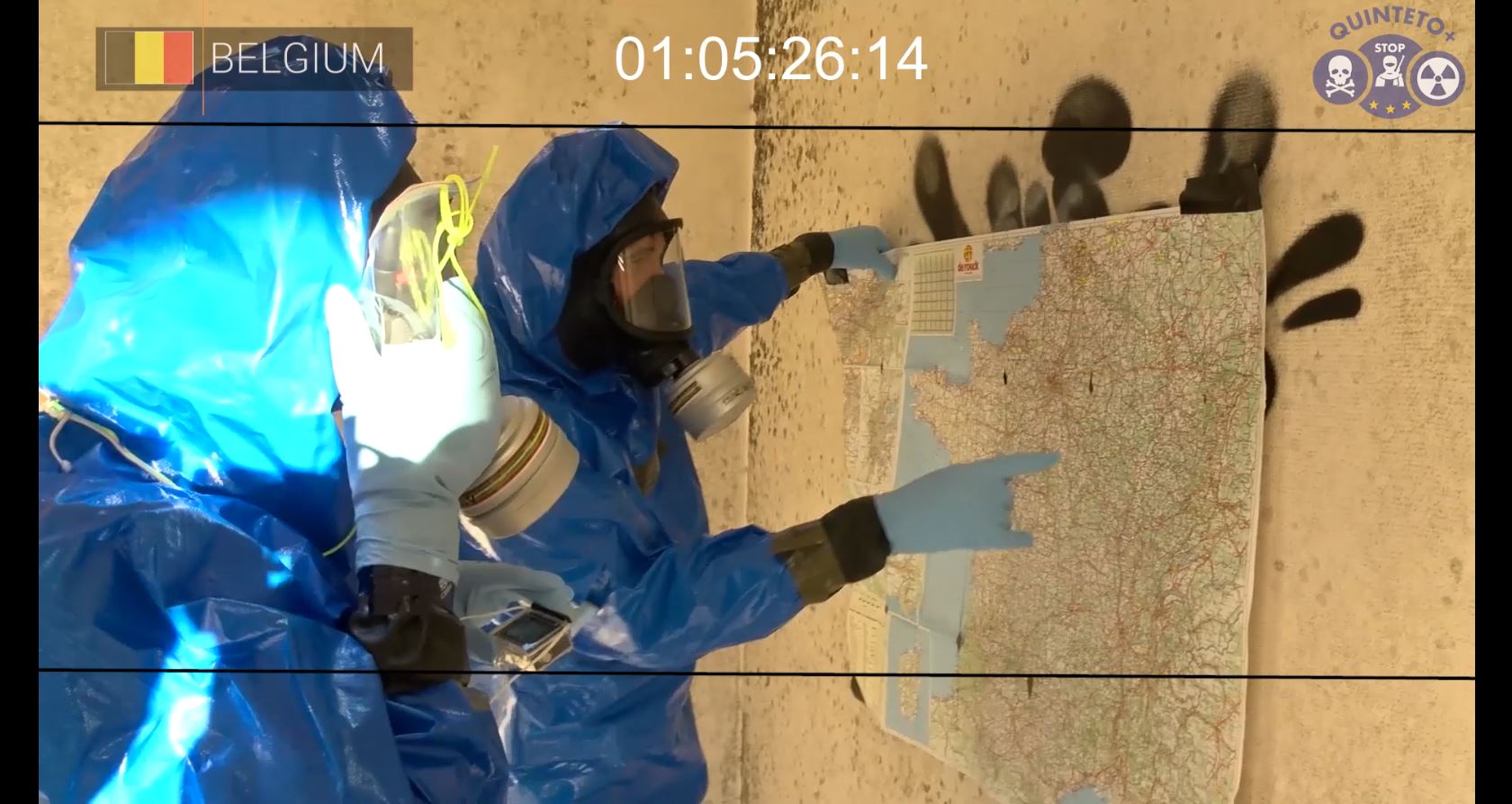 An important part of the exercise was carried out as a real live game. The majority of police officers (police patrol, regional police first line officers, etc.) have not been given any advance warning of the exercise; they were deployed from their normal duties without any planning or preparation and they made a realistic intervention as if they were dealing with a real terrorist attack. Their decision making and acting (searching for suspect car, contacting special units, intervening, etc.) was monitored by national exercise police teams from a distance. The objective was to find the gaps within the internal communication and inter-agency communication and to test the police officers' capacities and their reaction time to any CBRN terrorist event.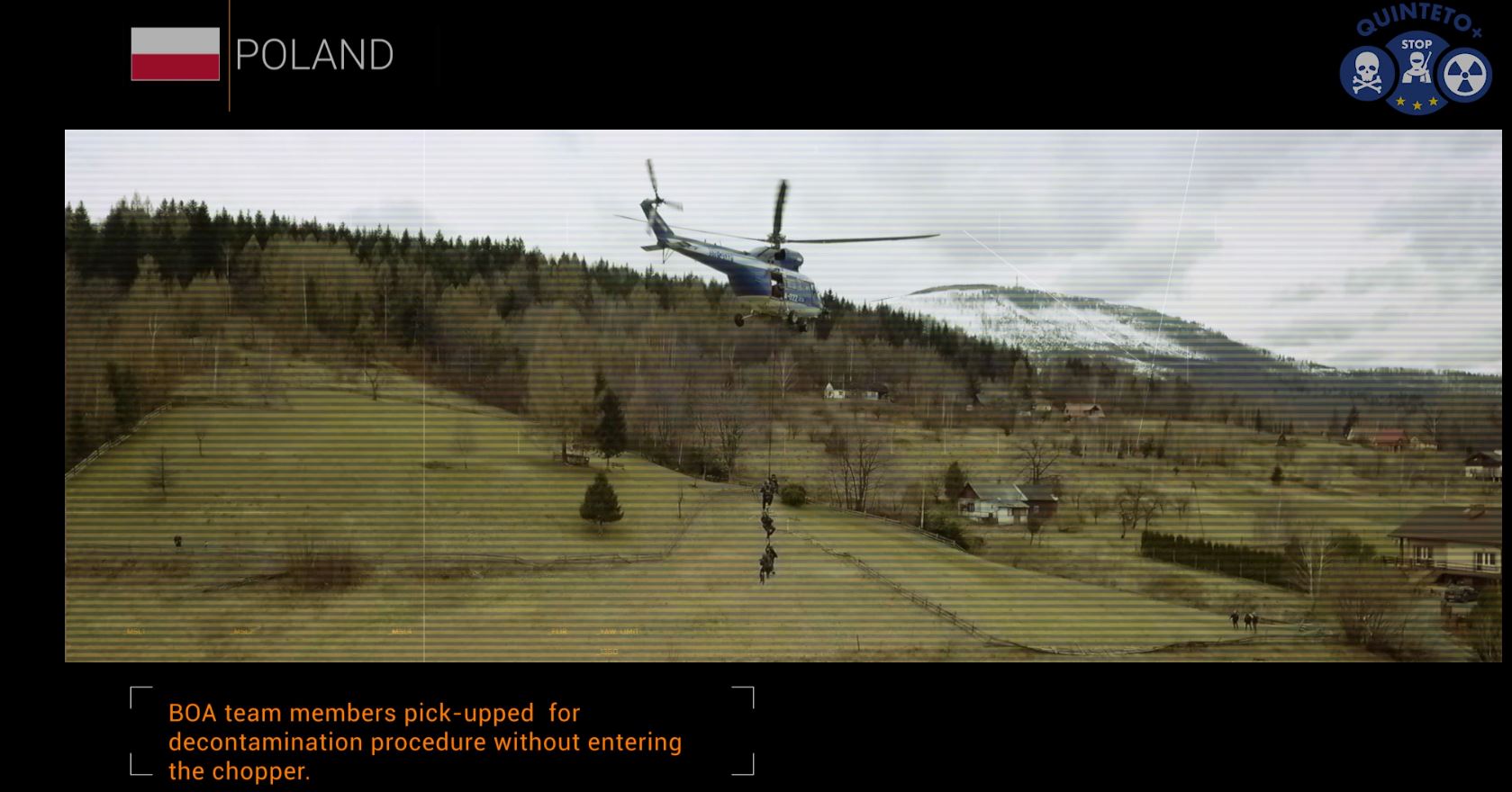 Another important part of the exercise was played as real simulation in which all players (special CBRN, SWAT, EOD, RIOT/Public order, CSI police units) were notified about the exercise rules and main tasks, but were not informed about all details related to the raid, house search, crime scene investigation, booby traps, etc. They faced many unexpected situations and used their skills and tactics to fulfil the mission. The objective was to test the police teams´ cooperation and reaction on unexpected situations during the car and house search, CSI, raid, etc. In some countries, civil protection responders and fire fighters will also be involved.
Only some parts of the exercise were prescribed, where all the steps were known to players from the beginning. Their objective was to enhance their skills is specific techniques and tactics related to intervention on the contaminated crime scene or scene with a danger coming from a solid radioactive source or chemical substances.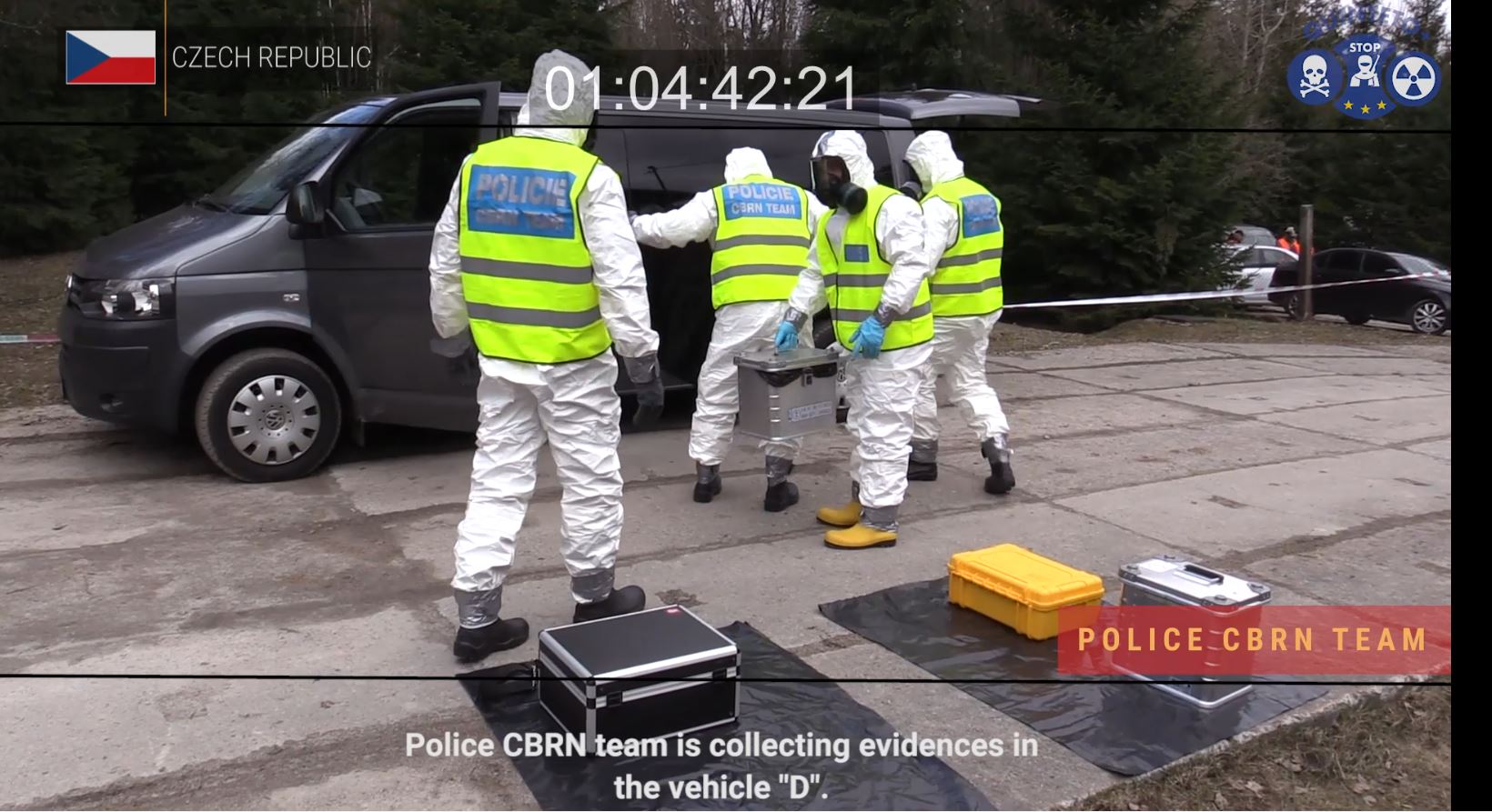 The table top part of the exercise was played through the newly developed IT communication platform called "SIENA X" by the International Security and Emergency Management Institute in cooperation with the European Commission (DG HOME).  
This platform was adapted to be used in the field via any mobile phone, tablets or iPad. This platform was tested for the first time in order to be available for any future combination of EU police table top and field exercise, where different messages, reactions or injects including annexes can be sent to players and observers. At the same time many developed documents from Crime Scene Investigation, intelligence reports or fictitious videos from social media were also shared. As a part of this pilot IT platform for combined exercises (field + table top), the on-line stream from some parts of the exercise were also tested. This allowed on-line observers to follow the exercise from day Zero until the end by watching some on-line video streams depending on the location of the field exercise.
Exercise was divided into two phases. Lead-in phase started on 11 March and ended on 15 March 2019. In lead-in phase intelligence exchange in connection to fictitious North Africa countries between ISEMI, EUROPOL and law enforcement agencies were carried out. Likewise, several social media analyses on recent terrorist propaganda and TV News injects were provided to prepare players for the conduct phase. Main story line started by Europol fictitious analysis, based on which EU countries are nowadays threatened by ISTA terrorist organisation, which became more and more important especially in Ropperta and Loripa – northern Africa third countries thanks to NEXSTA connections. Radicalised jihadists from that region connected to different EU countries including Eastern Europe succeeded to build the strong EU background and likely prepare a terrorist plot within the EU territory.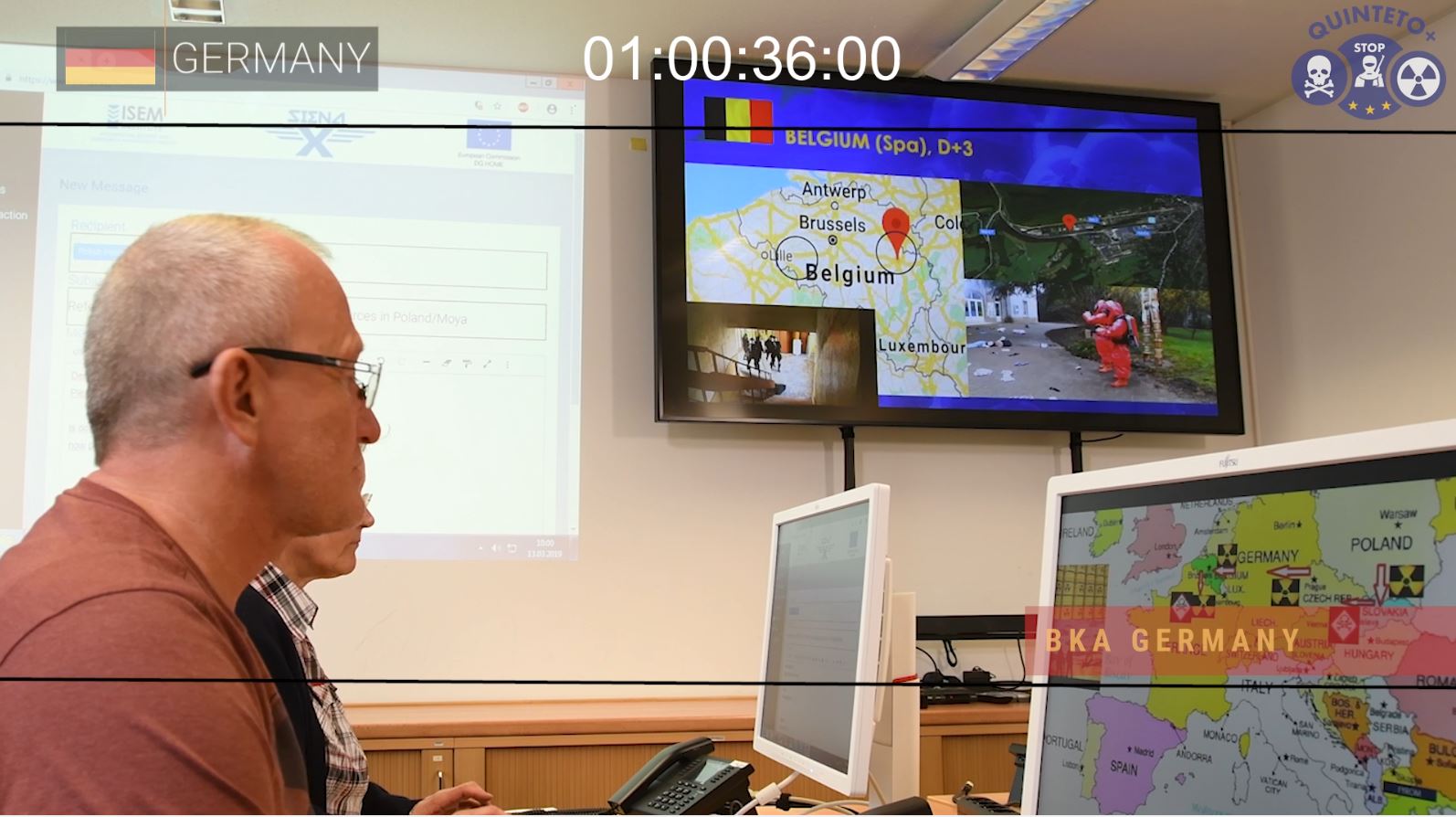 Conduct phase was implemented between 18 and 22 March 2019.  The scenario started in Poland, where a car transporting radioactive isotopes  going to Slovakia was stolen. A terrorist group planned to transport the radioactive sources to Western Europe through several routes with a strategy of changing cars and reloading the cargo to conceal their activity and avoid being easily tracked by the police. On their route to the west, in several countries, they set-up several improvised laboratories to prepare the final attack. When the terrorists are crossing Slovakia, Czech Republic, Germany, Belgium, different police agencies (with Europol support) made all necessary efforts and activities to track the suspects and follow them in order to discover their plot. Despite the huge effort of all EU MS forces  that successfully monitored movement of the terrorist cell from Poland to France and arrested many of its members, another parallel terrorist cell prepared and successfully performed their plot with the chemical substance. Many police tactics and interventions were implemented until the final phase of the terrorist plots takes place in France, where different first responders deliver interventions against radioactive and chemical threats. The exercise was enriched by including many realistic cross-country injects including social media injects and relevant reactions of the national authorities. Whole field exercise was implemented using white, red and blue teams (players) from the beginning till the end to play full scenario like in the real situation. This includes real theft of radioisotopes, terrorists movement from one to another country including reloading radioactive sources, preparing chemical agents and explosives in laboratories, attacking the bus with chemical agent, etc. and relevant countering interventions of law enforcement agencies as mentioned above.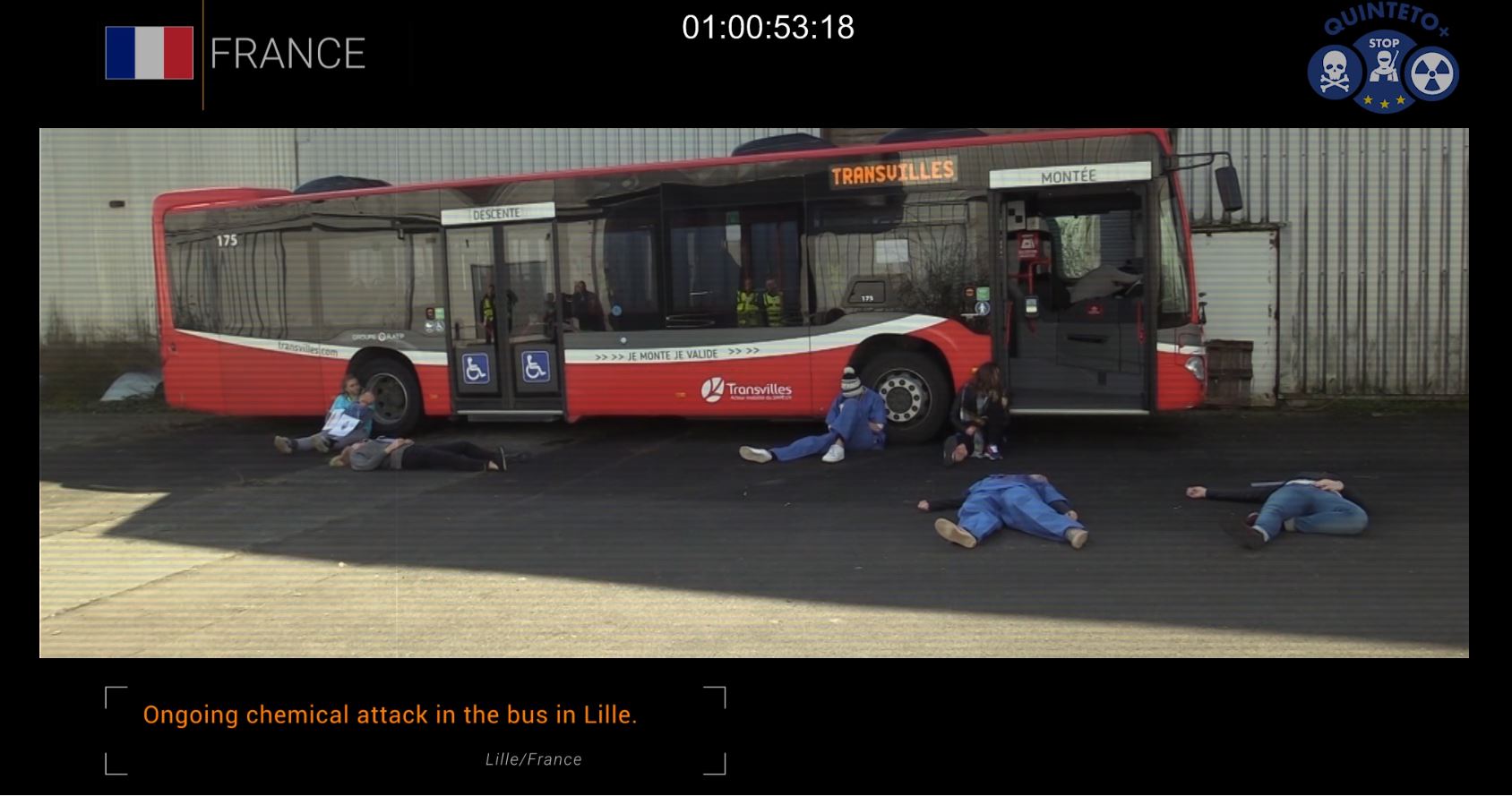 Main organising and participating institutions and law enforcement agencies: DG HOME – European Commission, ISEMI, CIVPOL + MoI - DCI, EUROPOL, Polish Police – Anti-Terrorist Unit (BOA including its CBRN team), Slovak Police – CBRN and Environmental Crime Police Unit, Czech Police – Counter-Terrorism CBRN Unit, German Police – BKA, Belgium Police – DSU (SWAT Team), French National Gendarmerie – (C2CBRN, IRCGN, GIGN, etc.). Additional important police units and other partners like Chemical laboratories, Fire fighters, Civil protection, Ambulance, etc. were involved to some scenario sequences,
This exercise was funded by the EC – DG HOME