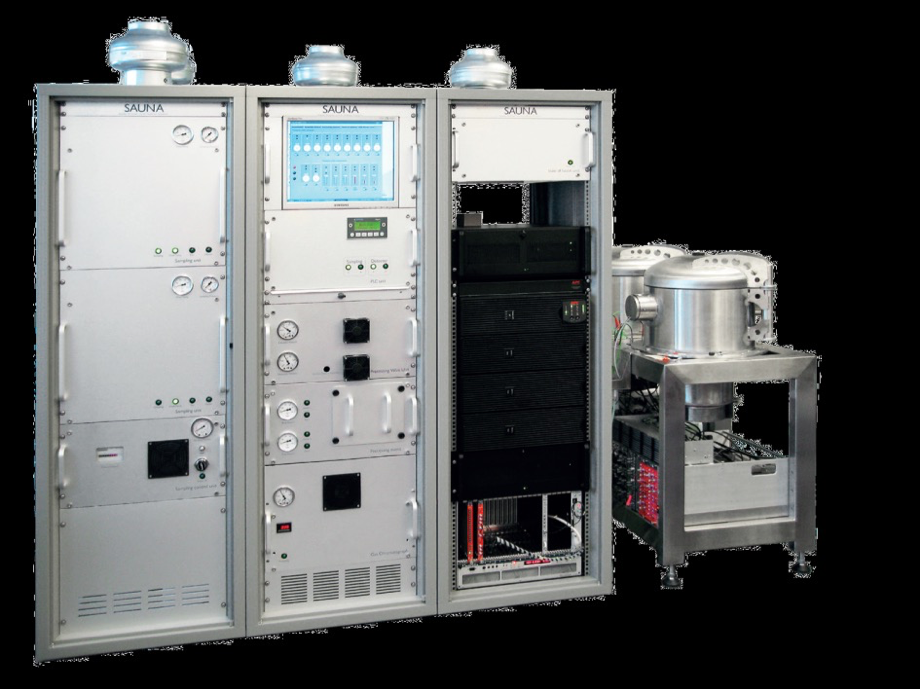 PROTECTING OUR PLANET:

Solutions for Nuclear Event Detection
Introduction
Scienta Sensor Systems markets, installs, and services ultrasensitive systems for detection of radioactive xenon in the atmosphere, e.g. for detection of nuclear explosions or malfunctioning nuclear plants. Scienta has the largest installed base of radio-nuclide systems in networks worldwide. The company is engaged in a long term strategic partnership with the Swedish Defense Research Agency (FOI) in the development of technologies for the next generation of systems.
Stringent quality assurance and an innovative approach form the basis for an extremely high quality and modular concept. The company's world-wide established SAUNA II system exceeds the Comprehensive Test Ban Treaty (CTBT) requirements for near real-time ultra-sensitive field measurement of short lived noble gases. A range of products are now available to meet specific needs and different applications. All systems offer excellent reliability and easy maintenance and are supported by a worldwide support organization.
A leading solution for nuclear event detection
---
Sensitivity
The highly sensitive beta-gamma detection technique results in low detection limits for all four relevant xenon isotopes. The technical specifications and performance of the system exceeds the specifications defined by the CTBT requirements.
Reliability
An advanced state-of-health (SOH) system monitors performance and provides real-time alerts regarding system parameters. Data from the local SOH database can be displayed for any sensor with high time resolution, providing possibilities for long term stability studies and remote troubleshooting.
Modularity
SAUNA is a flexible concept with a high degree of modularity. All modules are individually exchangeable, with components being placed in modules according to functionality. This facilitates potential future upgrades and simplifies troubleshooting.
User friendly
The system design is both intuitive and logical. It includes front and rear interfaces providing versatile access and functionality. The front side provides limited features with only the most importantparameters displayed. Access to the system for daily routine operation and monitoring is through the SOH software. The rear side, where the modules are interconnected, is used for service and maintenance.
SAUNA II
• Fully automated, state-of-the-art system for continuous monitoring
• Based on a unique sampling technique followed by preparative gas chromatography and a high sensitivity detection
• Technical specifications and performance meet or exceed CTBT requirements
• 12 hour data resolution with preliminary spectral data and SOH-data reported every second hour
• Highly sensitive beta-gamma detection system gives low detection limits for 133Xe,
135Xe,133mXe, and 131mXe
• State-of-health monitoring system generates alerts on deviations from normal
Conclusion
- Leading edge solutions for monitoring nuclear fission events
- Ultra-sensitive remote detection of nuclear weapons testing and nuclear power plants operations
- Capability for early warning system and emergency preparedness
For more information about Sauna II and other products by Scienta Sensor Systems, visit their website